CurrículumFácil es sin duda el mejor programa para hacer CVs y Cartas de Presentación en Español. Y así lo piensan también nuestros usuarios:
"…Me quedé simplemente encantada con el resultado. Por primera vez siento que tengo un currículum que me vende como profesional. Ya me llamaron para 2 entrevistas. ¡Gracias por la atención y por el excelente programa!..."
María Auxiliadora Vargas -- Alicante
"Empecé a preparar mi Bitácora y está muy bien. Muy fácil de usar."
Ana Martín -- México DF
"El tema este de la ayuda editorial está genial. Muchas veces he buscado en internet ejemplos para ayudarme a escribir logros y encontraba siempre mucha teoría (tienes que escribir cifras, valores, etc...) cuando lo que quería eran ejemplos. Este programa lo tiene todo y mucho más... "
Juan Mercado -- Madrid
Tenía que hacer mi primer curriculum y no tenía ni idea de cómo empezarlo. Descargué el programa y la verdad es que quedé alucinado con el resultado. Excelente y con una calidad superior a cualquiera de los ejemplos que había conseguido en Internet.
Ricardo González - Madrid
Hacer mi curriculum vitae con CurrículumFácil fue realmente muy fácil. He creado mi bitácora profesional, segui los pasos que me indicó el programa y listo, ya tenía mi cv para imprimir.
Pedro Manuel Alonso Romero - Asturias
¿A qué esperas para probar esta fantástica herramienta para escribir currículos y cartas de presentación? Descarga aquí la demo GRATIS de CurrículumFácil.
_________________________________
Echa un vistazo también a las opiniones de los usuarios de EasyJob, la versión en inglés de CurrículumFácil:
This software is a masterpiece.
I just have to say it. This is the most extraordinary software I've ever tried in my whole life. It helped me a lot in my career. (...)
Thank You very Much again and again.
Noel Romero
I really think that Easyjob is a good value, and has good support.
Keith Gibson -- IL
My son uses your software for his resume and it looks very impressive.
Igor Sidorenko -- Australia
Thanks so much! I really appreciate your prompt response, and I think the product is great- good luck with sales!
Jackie McKechnie -- Ontario
I have several friends that need the same type of program and I will recommend your site based on the service I received. Thanks once again, Fernando.
Ferdinand Mehlinger -- CA
"Thanks for a great software program "
In either case, thanks for a great software program. It seems to be
working great at getting my creative thought process going.

Noe Longoria -- CA
"Fair, responsive and honest."
Thanks for your reaction to my problem. Not many net businesses are as
fair, responsive, and honest. You have a good product.
Monte Swann -- CA
"Well designed and useful"
Seems well designed and it's very easy to use. It has a lot of good features. I'm not really a computer guru, but I managed to get up and running quickly. I did have some trouble registering it, but the support was very responsive and helpful. Deserves to get noticed.
User from Download.com
"(...) 5 out of 5 Rating because this product is easy to use, it has a professional-looking interface and is excellent compared to other programs in this section."
Brothersoft.com Review Staff
I was impressed with Easy Resume Builder. In the current state of the job market, potential employees need all the help they can get just to get their foot in the door.
Conn Williamson -- Seatle
I do like the EasyJob much better than WinWay Deluxe, which I already have. I want to purchase another resume software package and yours is the best I've seen so far.


Tracey Lynn Smith -- Michigan
"(...) compared to other resume builders, it's the best!! "
Leoric Mercado --IL
I can't believe that I ordered twice...if so, then it certainly was in error.
Thank you for deleting one of the transactions. And especially, thank you for even responding to my inquiry. Most other internet sites don't even bother to do so.
That already puts you above the rest! Sincerely, Larry
Larry VanBrocklin -- TN
EasyJob is the best resume builder I tried so far! It would be nice if you had a multi language version of it like German, Spanish and French!

Thanks for your outstanding assistance!

Heinz Rohner -- Alberta
I have already created a presentation package and sent out a resume to a prospective employer. Thank you for a great program! (...)
Thanks again and keep up the good work!
Charles Hall Jr. -- Maryland
I printed out my resume and it looks really, really nice. I am very impressed with the quality of it. I think my prospective employers will be too.
Great Program!!! Well worth the money!!
Cheryl Kurz -- IL
Thank YOU, Sir, for responding so fast & professionally.
Just posted payment for your Great Program.
William Griffith -- Maryland
¿Listo para comprobarlo tu mismo? Haz clic aquí para descargar la demo de CurrículumFácil GRATIS.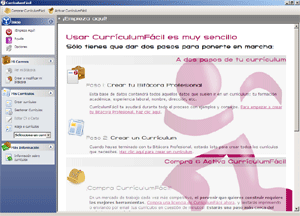 | | | | | | | | | |
| --- | --- | --- | --- | --- | --- | --- | --- | --- |
| ¿Te Gustó? Compártelo | | | | | | | | |
Ver También: